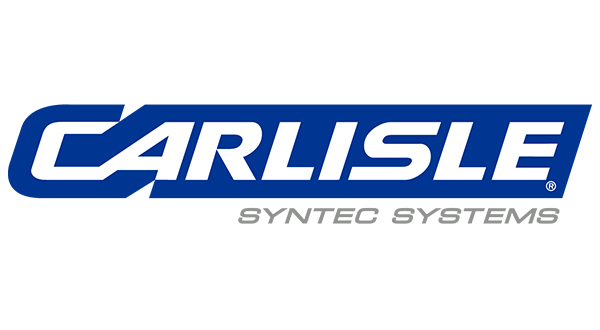 The Problem:
The existing Siporex lightweight concrete roof deck limited available roofing options due to low fastener pull out resistance and low load bearing capability.
The original asphalt and felt built up roof membrane hadbeenleftinplaceandwasrecoveredwitha25mm fiberglass torch safe insulation and a torch applied two ply modified bitumen membrane.
A substantial amount of the fiberglass insulation was wet.
In addition the Owner insisted that the new roof system be installed without the use of asphalt or open flame.
Application Solution:
Engineering tests on the Siporex roof deck were done and it was determined that although the deck was structurally sound, the use of mechanical fasteners was not feasible due to insufficient pull out values.
It was also found that removal of the existing built up asphalt and felt membrane would cause damage to the Siporex deck.
Working with Carlisle Syntec's local distributor Arrow Construction Products and Atlantic Roofers Ltd., a Carlisle approved applicator, a Carlisle FleeceBack 115 EPDM roofing system was chosen.
Carlisle's FleeceBack system is a fully adhered systemutilizing low rise polyurethane astheadhesive with an exterior reinforced 60 mil EPDM bonded to a 55 mil non woven polyester
Solution Benefits:
Increased thermal resistance and positive drainage was achieved through the application of flat and tapered Type II Expanded Polystyrene insulation directly to the prepared built up membrane in a full coating of Carlisle's Fast 100 Adhesive.
The waterproofing layer consisting of Carlisle's FleeceBack 115 EPDM was then installed to the polystyrene insulation in a full coating of Fast 100 Adhesive.
The roof was completed in 2 days in December of 2008 byAtlantic Roofers Ltd. under the supervision of branchmanagerBobMcGinnandsitesuperintendent Derrick Jones.
The Carlisle FleeceBack EPDM system provided the ideal solution to a complex problem. No asphalt or open flame was required for the system installation, the Fast 100 Adhesive provided excellent adhesion for both the insulation and membrane, the system was lightweight, the integrity of the Siporex deck was preserved and a Carlisle 10 Year System Warranty was provided.
Links:
www.arrowco.ca
www.carlisle-syntec.com
www.roof1consultants.com
PROJECT HIGHLIGHTS:
Project: Canada Post Re-Roof
Location: Waggoners Lane- Fredericton, NB
Date Installed: December 2008
Product / System: FleeceBACK Adhered Roofing System
Owner: Canada Post
Designer: Roof 1 Consultants – Roger Prime
Contractor: Atlantic Roofers – Fredericton, NB