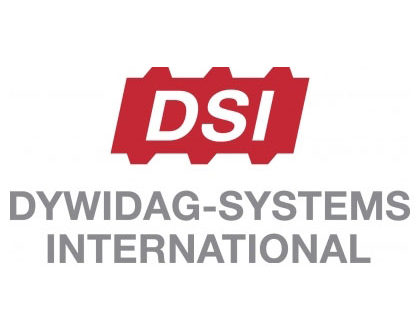 The Problem:
DSI is a world leader in this field with an outstanding reputation of product quality and customer service. The double corrosion protected THREADBAR ® anchor is universally recognized as the "standard" for anchor performance and corrosion protection. DSI is dedicated to the advancement of the "State-of the Art" for rock and soil anchors and stands ready to support you during the design, planning and construction of your project.
Application Solution:
Rock Anchors are post-tensioned tendons installed in drilled holes for which at least the entire bond length is located in rock. The anchor force is transmitted to the rock by bond between the grout body and the rock. Rock anchors can remain unbonded in the free stressing length, allowing the anchor to be checked and retensioned at any time. In such cases, adequate corrosion protection for the stressing anchorage and the free stressing length must be provided. On the other hand, the free stressing length can also be fully grouted after the anchor has been stressed, in which case force adjustment is no longer possible.
Solution Benefits:
As a full service organization, DSI is prepared to supply design assistance and practical field know-how. This service can also be used to optimize the design process by helping to select the anchor system best suited to meet specific project requirements.The regional warehouse and fabricating centers strategically located throughout North America, coupled with an extensive network of local sales/service centers, provide prompt, reliable response to customers' needs. To minimize site labor and to optimize quality control, a variety of shop prefabricating services are available for both bar and strand anchors.
PROJECT HIGHLIGHTS:
Project: Richard J. Currie Centre
Location: UNB Campus – Fredericton, NB
Date Installed: December 2008
Product / System: Dywidag Rock Anchors
Owner: University of New Brunswick
Designer: ADI & Jacques Whitford
Contractor: Acadian Construction, Philson Limited & Alltech Solutions