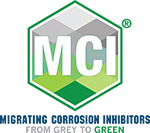 New Perspective in Corrosion Protection from MCI®
Arrow Construction Products is proud to offer Cortec Corporation's patented MCI (Migrating Corrosion Inhibitor) Technology to industry in Atlantic Canada.

A Revolutionary Way to Improve Durability of Concrete and Extend the Service Life of Structures.

Cortec® Corporation is a world leader in innovative, environmentally responsible corrosion control technologies.
---

WHY USE CORTEC MCI® TECHNOLOGY?

Cortec MCI products maintain structural integrity, rehabilitate vulnerable structures, and alleviate environmental concerns. By using MCI®, structures will have a stronger resistance to corrosion increasing durability. Increased durability results in greater sustainability because of fewer repairs, greater structural integrity, and longer service life.
---
HOW DOES MCI® TECHNOLOGY WORK?

MCIs are classified as mixed inhibitors, meaning they affect both anodic and cathodic portions of a corrosion cell. MCI® is applied in many forms including as a concrete admixture or a topical treatment. It moves as a liquid through the concrete matrix via capillary action and migrates in a vapor phase throughout the concrete pore structure. When MCI® comes in contact with embedded metals, it has an ionic attraction to it and forms a protective molecular layer. This film prevents corrosive elements from further reacting with the reinforcement and also reduces existing corrosion rates, greatly extending concrete service life.
---
CLICK HERE TO SEE OUR FULL LINE OF MCI® 
CORROSION INHIBITOR PRODUCTS

Concrete Admixtures – Surface Treatments – Restoration – Specialty for Concrete Cleaning

**Talk to a member of our sales team to find the solution that meets your specific needs**