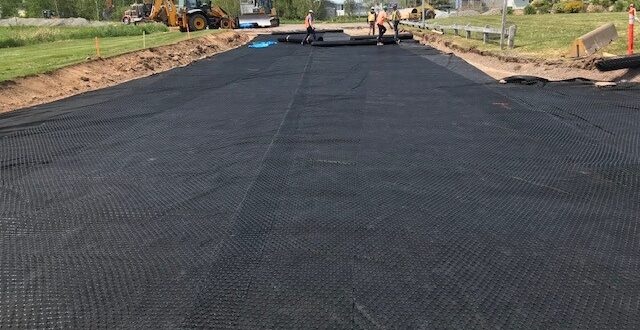 Parlee Beach Access Road – Tensar Triax Geogrid
---
The design team chose to use the Tensar Triax TX 5 while utilizing the Tensar SpectraPave software. The Software allowed the design team to optimize the road cross sections and extend the life cycle of the asphalt pavement. This will provide the owner with long term performance and minimal downtime due to repair without paying a premium.
With the use of Tensar Geogrids we are able to offset the cost of the Geogrid with the reduction of aggregates. This means less rock, less hauling, less emissions without sacrificing performance.

Win Win for the Owner!
---
Project Details
Project Name – Parlee Beach Access Road
Location – Shediac, NB
Contractors – Miller Group / MacDonald Paving and Construction
Material Used –
Tensar Triax TX 5 Geogrid
Terrafix N-2 Geotextile
Additional Support – Tensar SpectraPave Software
---
Click on buttons below for more product information
---